Simple Ways to Support
Your Design39 Campus
Ralph's Rewards Community Contribution Program
Up to 4% of your grocery bills will be donated to Design39Campus.
 Simple to use – just link your Ralph's Rewards card once and every purchase this year will automatically receive credit.
On your next shopping trip to Ralph's, just show the cashier this letter, along with your Ralph's Rewards card.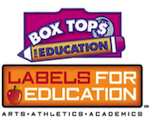 Box Tops and Labels For Education
Save all of your qualifying box tops and labels for education!
We will collect them all, semi-annually, in October and April of every year.
LOCATION
17050 Del Sur Ridge Road, San Diego, CA 92127 United States